Firearms Training – Private Sessions
Learn how to carry, draw, conduct immediate action drills, clear malfunctions and learn the warrior attitude from experienced Law Enforcement professionals who have "walked the walk".
Learn more by contacting us today! (954) 780-6835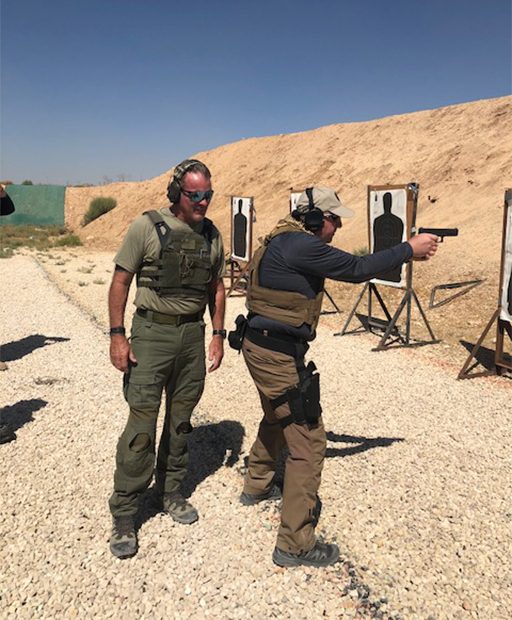 What you can expect?
Our Firearms Training programs include basic to advanced instruction. We believe you "crawl before you walk." It is not required that you have fired a firearm before attending our Florida CCW or basic instruction classes.
Whether for home protection, every day carry or armed security, our classes are taught by experienced professionals who ensure that you know the state of Florida concealed carry laws and that you are comfortable carrying a firearm.
Register for the Concealed Weapons Course
$120 Per Person
(954) 780-6835  |  reg@floridaconcealedweaponscourse.com
yvonne grate
October 24, 2022.
Excellent training. Easy to understand and very enjoyable!
Andrew Angelin
October 21, 2022.
Scott is a phenomenal firearms instructor who teaches you the key fundamentals in proper firearms training, safety and weapon maintenance. His teaching method is clear, concise and to the point. He is a true professional. I really enjoyed learning from Scott and I highly recommend you take his course.
avinoam garji
October 21, 2022.
Highly recommended, Scott was very friendly and professional, very quick to respond and to schedule made the process very easy
Scott was great. Very professional. Knowledgeable. Offered real life perspective on situations beyond simply reading from a script. Would highly recommend the course for anyone interested in obtaining a concealed carry permit. My wife and I will also be signing up for private courses with Scott for further education into firearms use and safety. Again would highly recommend. Thanks Scott.
Josiah Graham
September 26, 2022.
This is by far the best concealed weapons class in Florida. I took a class years ago but my license lapsed. When I initially took the course, you could tell the instructor just wanted my money and was rushing through. Scott was COMPLETELY different. His course centered around gun safety. After sitting through his course, I gained a new respect and appreciation for firearms. I now know that it is an incredible responsibility to carry one. He taught the class with so much passion and his mastery of the subject was apparent. I highly recommend taking his course. I also look forward to taking his shooting classes.
I definitely recommend this course to anyone who is serious about obtaining a concealed weapons license and more importantly who wants to learn to operate a gun safely with proficiency. Scott is a professional and an excellent teacher. I never shot a weapon with such accuracy and confidence!
Cindy Manis
August 11, 2022.
This was my first time ever holding a gun let alone shooting one. I took Scott's Concealed Weapons Course to gain confidence, experience, and knowledge of guns and gun safety. Needless to say, I left the course feeling less ignorant and more comfortable being around guns and how they operate. Scott is very professional and knowledgeable. I was very nervous going into the course but Scott made me feel at ease and he was so patient when I had questions. I highly recommend his course !
Meritxell Ros
August 10, 2022.
Kenneth Cooper
August 1, 2022.
Garrett Gager
April 21, 2022.
Had a great time taking the course! I learned a lot and it was clear to me that Scott was very well educated and experienced on the matter! I highly recommend this course to everyone!